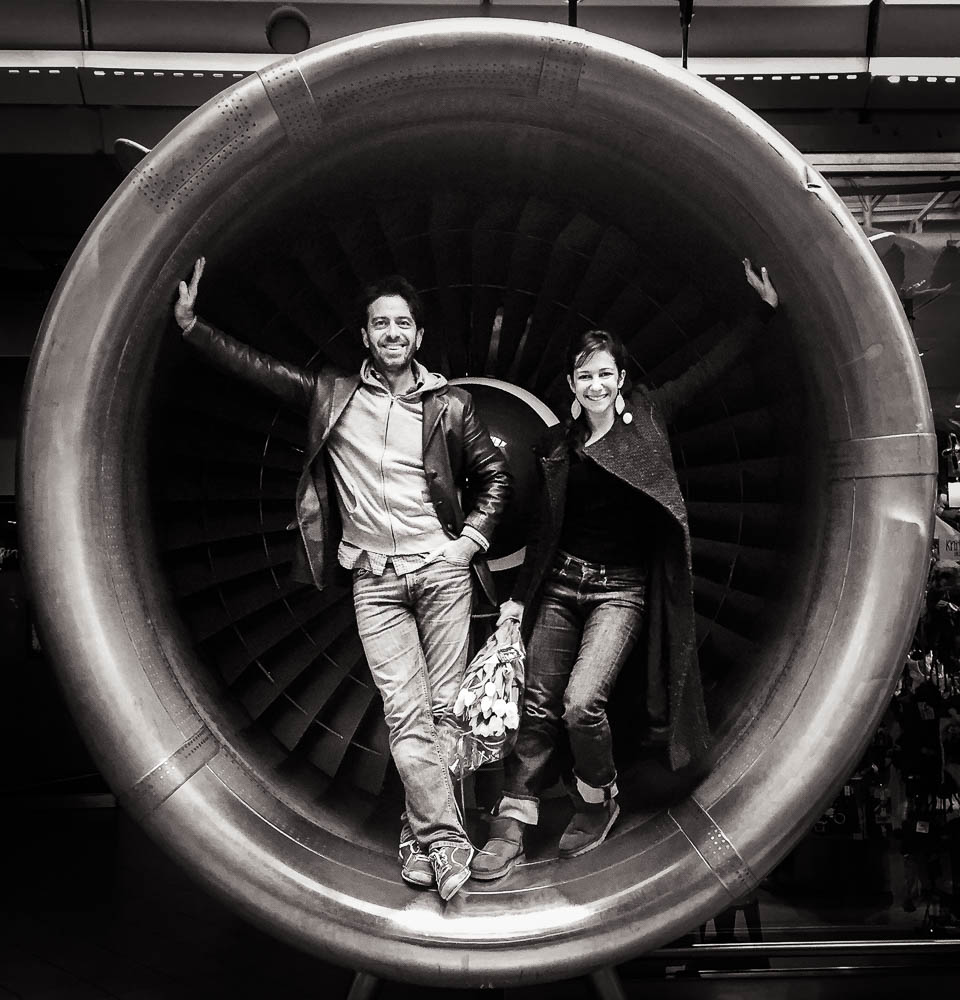 We are constantly traveling to teach around the globe. It's an amazing experience to be bringing tango to such a huge variety of communities that are spread on every continent. We are still amazed to see that the "abrazo language" is practiced by all kind of dancers and that people from any place of the world can "talk" that language with any other person from the opposite side of the globe. It's amazing and yes, we love what we do!
Many times we wish we had more time to share our ideas with the students and very often we feel we cannot go deeper into each subject as we would like because of  the way workshops are generally organized.
This is the reason why we conceived this intensive seminar. We want to create our ideal « teaching-learning situation », that is to have one same group of students for a fair amount of hours working in some key aspects of the tango as an improvisation dance.
We are very satisfied with our two previous experiences and we learned a lot by doing them. Also the feedback from participants encourages us to improve the proposal each time, to make it better and to help them move forward in their dance path.
Being with one same group for a week let us approach the tango dance in a integral way, going through its different aspects. As those who have already worked with us may know: we like to explore the «body in motion» as a whole unity in which everything is interrelated: its not JUST about technique, or JUST about expression, or JUST about patterns or music etc… because in the end, when it comes to "dance", all of these aspects go together.
The SITS 2019 program includes a mix of private classes, daily group classes and practicas over one week. The main topics we will work on are: individual technique, couple connection and dialogue, vocabulary and elements, musicality and improvisation, qualities of movement and expression. During the seminar participants will work in these various aspects of tango going through different exercises and examples.
As our dance it's constantly changing our focus evolves too, this makes each intensive seminar unique even if topics might remain the same.
To enrich the learning experience each couple will have one hour private class at the beginning of the seminar. These classes will be taught in one room with two student couples simultaneously with the presence of Pablo and Sofia so each couple will receive feedback from both (30 minutes with Pablo and 30 minutes with Sofia).
The group will work progressively on a designed plan that includes 16 hours of classes that will run from Tuesday to Saturday.
PRACTICAS
For this edition we planned group practicas on the evenings from Monday to Thursday so the group keep working after dinner. During the afternoon the dancing room will also be available for practicing if someone desires to do so instead of jumping into the swimming pool!
On top of the private class, during the week you will have a mix of 16 hours of group classes plus 7 hours of practicas that will
make the seminar last 6 days!

Summarizing the 2019 edition includes:
16hs of Group Classes
1h Private Class with Pablo & Sofia
7hs of Practicas
TOTAL SITS= 24h Training program
This seminar is suitable for upper intermediate and advanced dancers, semi professional or professional couples who practice tango very frequently since a considerable amount of years.
Note that the seminar won't be about pedagogy, but dance.
To participate in this seminar you must have a partner. If you don't, you can take a look in the FB event where single dancers will post their partner request. You're welcome to post what ever you need.
Note that during the seminar there won't be too many couple rotations. So each couple will work at their own pace/level.
The seminar will be conducted mainly in English. We will also translate to Italian, French and Spanish when needed trying to make sure that everybody understands.
For this edition we've found an idyllic venue that was specially conceived for tango. Living in the middle of the countryside an Italian tanguera decided to build a dreamed dance room in the backyard of her house. You will experience the pleasure of dancing over a delightful parquet, in a room full of natural light thanks to its sliding ceiling and windows that make you feel as if you were literally in the middle of the meadows. The venue has a swimming-pool, as well as a variety of chill-out areas spread in the garden and even a skate park for those who fancy some sport! The event is family-friendly so if you have children you are welcome to bring them along!
Great news about the food!! We will have a great Italian cook taking care of all the group meals during the seminar. She is an outstanding chef, recently invited to participate in Masterchef Italy! This will be the best way for us to experience the home made Italian food, the real thing!
Swimming Pool and afternoon chill-out
The house disposes of a nice swimming pool that will be available everyday for the use of the participants. After the classes during the afternoon,  the evenings practicas and milongas, there will be a bar service with aperitivos and snacks that can be served on demand.
Yurt and Camping area for free
In the backyard there is an authentic Yurt (a big circular tent used by Asian nomads) with 8 single mattresses which can host up to four couples.
For those who like to sleep in the nature the big backyard will be available for camping. For this purpose, the house disposes of two exterior toilets and two open-air showers.
FIESTA DEL ABRAZO! The After-Seminar! Milongas Non Stop during the weekend! After the hard work let's dance with the best DJs, in the never-to-be-forgotten party! Open to everybody