1. Arriving by Air, Train or Car
1 - Getting to Conventello, Province of Ravenna
Bologna Airport (BLQ) is the closest airport to the event and it's the main hub of Emilia Romagna in Italy.
With almost 100 regular destinations there are a lot of direct flights & low costs from most cities in Europe. The airport it's connected to:
12 Italian destinations
80 International destinations
4 Intercontinental destinations
Companies Flying to Bologna (BLQ) International and Lowcost:
Aegean Airlines
Aeroflot
Air Dolomiti
Air France
Air Italy
Alitalia
Austrian Airlines
Blue Panorama
British Airways
Brussels Airlines
Czech Airlines
EasyJet
Emirates
Ernest
Eurowings
Georgian Airways
Hop!
Iberia
Klm
Laudamotion
Lufthansa
Pegasus Airlines
TAP Portugal
Turkish Airlines
Ukraine Int Ailines
Royal Air Maroc
Ryanair
SAS
Vueling
Wizz Air
Of course if you come with your own car it's perfect! Your life will be easy here. And no worries for the parking, there's a lot of space.
After completing the registration for the seminar you will get by email the exact address and instructions for the GPS
The car sharing it's the unbeatable way to travel for a couple of euros. Book your spot in a fancy car coming to Conventello! Search also a trip to Ravenna, the closest city to the location.
One of the favorite ways of traveling for many people: The Train!! If you choose this option then your arrival station is Ravenna (FS).
2 - From Bologna airport to Conventello
RENT A CAR:
The most easy going and comfortable option. If you are a group of 4, and you stay at the same B&B or close to each other you can hire a car to be free to move at any time. Al the mayor rentals are at Bologna Airport:
Book your car on Rentalcars.com
BY SHUTTLE BUS CRAB:
During the summer this shuttle deserves BLQ-Ravenna several times a day. A good solution if you arrive alone to Bologna Airport. You'd better book in advance.
Shuttlecrab: Tel +39 0544 971844
www.shuttlecrab.it | info@shuttlecrab.it
DIRECT TRANSFERS
If you are 3 or more people this option is very interesting as you can book a transfer from Bologna airport directly to your B&B, or to Conventello if you use the Yurt or the Camping.
Some companies have also vans that go up to 8 passengers and then it's very cheap. Be sure you book this option in advance. Eventually book also your return ride to the airport at the same time.
Here you have 2 options:
GoOpti: www.goopti.com/en
Suntransfers: www.suntransfers.com
3 - Daily Transfers - Conventello - B&B - Ravenna
Shuttle service for short distances
For those participants not having a car, there will be a shuttle service available for the daily transfers from the B&B to the seminar venue at a convenient fare.
If you arrive by train to Ravenna, or if you come by the shuttle bus from the Bologna Airport (Shuttlecrab) you should book your rides, for both arrival and departure, in advance.
Possible rides (from/to):
Conventello – Ravenna area: €15 (Pick Up from Train station and shuttle CRAB stop)
Conventello – Alfonsine area: €10 (B&B + Hotels)
Conventello – Savarna area: €5 (B&B)
Each ride can take up to 4 passengers. There will be 3 cars available. Prices are for 1 way ride, by car. If you are 2 or more passengers you share the ride.
After completing the registration for the seminar you will get by email the contact information (email and phone number) to book your rides.
Camping at the event location
CAMPING AREA (free for the participants)
For those who like to sleep in the nature the big backyard at the event location will be available for camping!!
For this purpose, the house disposes of two exterior toilets and two open-air showers.
You only need to bring your own tent, sleeping bag, etc.
Both options – Camping and Yurt- are offered by the house for free.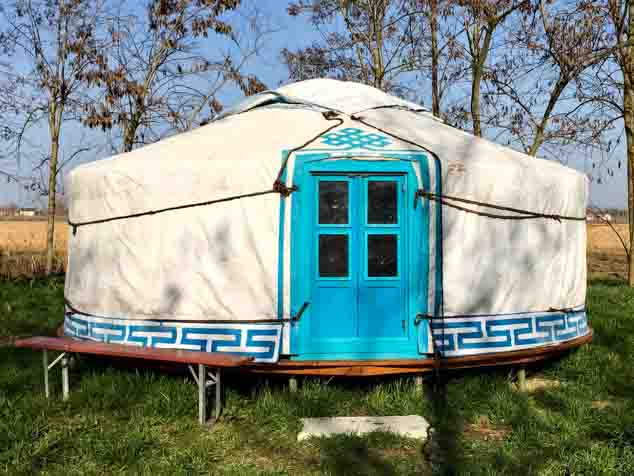 YURT (free for the participants, up to 4 couples)
In the backyard there is also an authentic Yurt (a big circular tent used by Asian nomads) with 8 single mattresses which can host up to four couples.
You only need to bring your own sleeping bag + 1 pillowcase
(The Yurt option is for the 4 first couples asking for the spots. You will be able to book the spots while registering for the seminar)
The seminar it's in August and the period is very busy so we pre booked all the rooms in a couple of B&B to be sure you can have your spot for the seminar for a good price.
The Pre-Booked rooms are guaranteed until May 31st. From June 1st unbooked rooms will re-open public booking and they will be certainly more expensive. Don't wait and book ASAP.
These are the nicest and closest we found around and we also asked for a special price. To get those rooms you will need a special booking code that we will provide when you finish the registration for the seminar.
B&B - Pre Booked - Best Choice
Hotel and B&B search engines:
Booking
Hotels Combined
Bed & Breakfast
Tripadvisor
Key word can be Conventello or Alfonsine